No need for a post-crypto pre-owned panic. A healthy correction is just what the watch market needs. And now, according to Robin Swithinbank, is the time to keep calm and carry on.
It seems the bubble has burst. Popped like a gassy Disney balloon at a spoiled child's birthday party.
Pre-owned prices, say the numbers, are crashing back to earth.
And good thing, too.
Boo-yah to the speculators, scalped by their own greed. For some, the bump will hurt.
That's clearly the case – in some instances. But behind the headline stories of Rolex Daytonas and Audemars Piguet Royal Oaks halving in value over the past six months, there's another view, which is that the market is experiencing a long-overdue healthy correction. And many believe that it is a good thing.


A correction? The crash isn't that bad.
Graphs tracking the pre-owned market, not just the so-called unicorn watches (a phrase I'd gladly see go the way of that Disney balloon), show a steady decline, rather than a death-slide, post-Brexit, sterling-style plunge.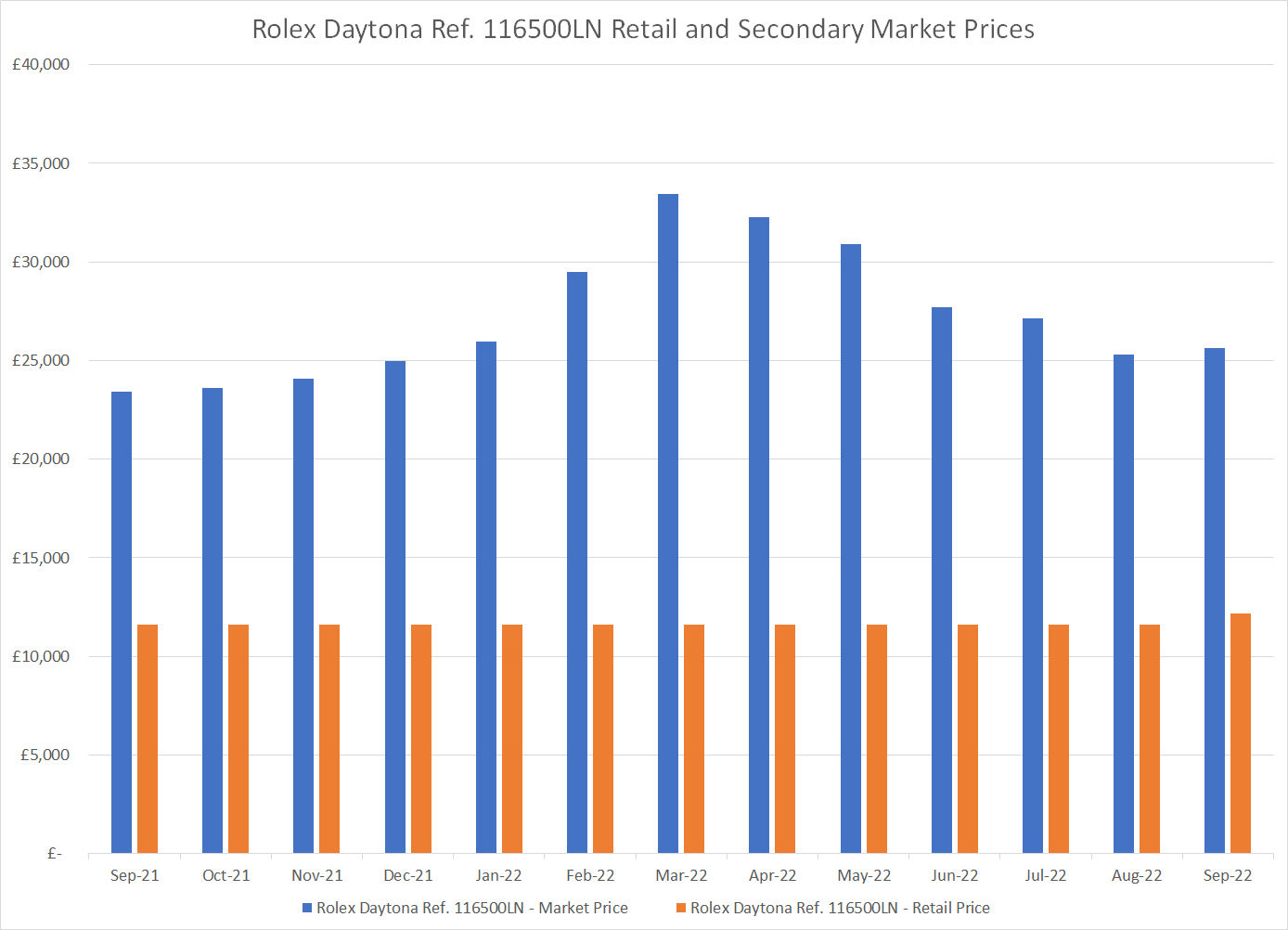 Many of the factors are macro-economic, too, and nothing to do with the actual value of a good watch.
Which means this is not a time to panic. The dip shouldn't induce mass crypto-style dumping events.
Because one thing hasn't changed.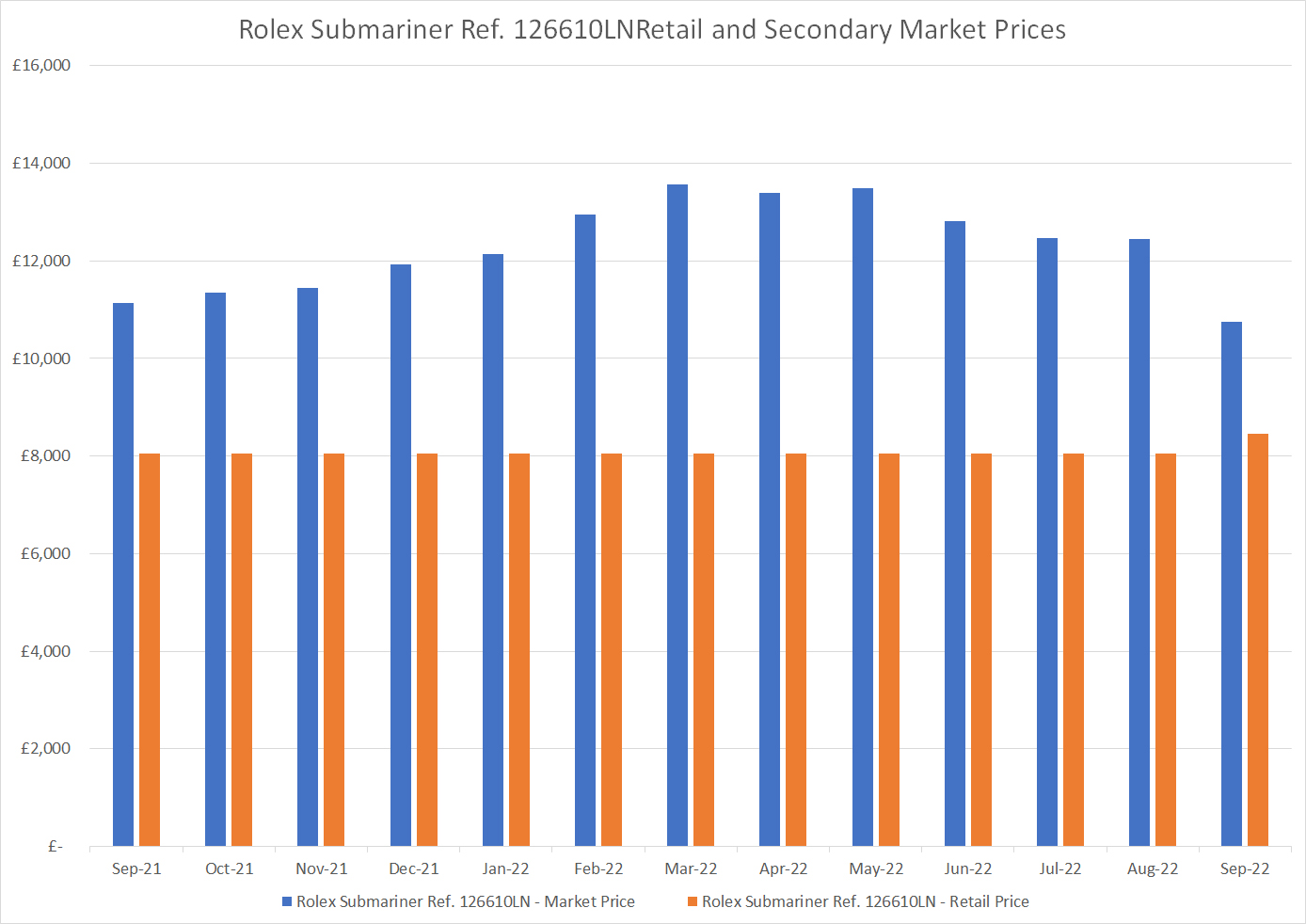 Unlike flaky, ephemeral investments such as crypto or NFTs, the speculator's breakfast bar, a mechanical watch has tangible value, immutable functionality (whether that's finishing a look or timing pasta) and a personal story that grows in the telling with each day it's worn.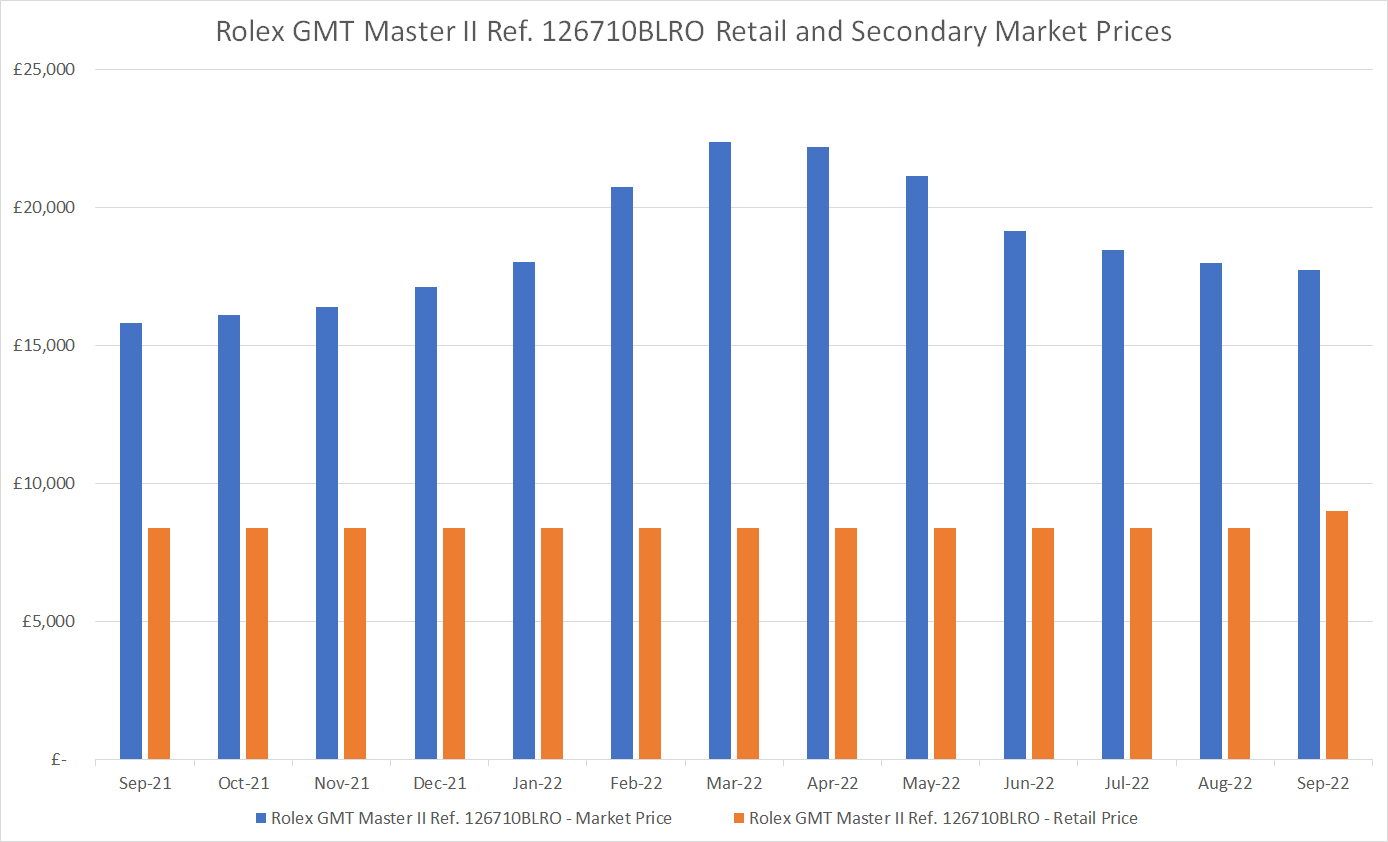 Talking of macro, there's little reason to believe the market isn't still on track to meet the forecasts laid out in a watch industry report published last year by McKinsey and Business of Fashion (for full disclosure, I contributed to it, albeit only as a profiler of a few industry lynch pins in light of the report's findings).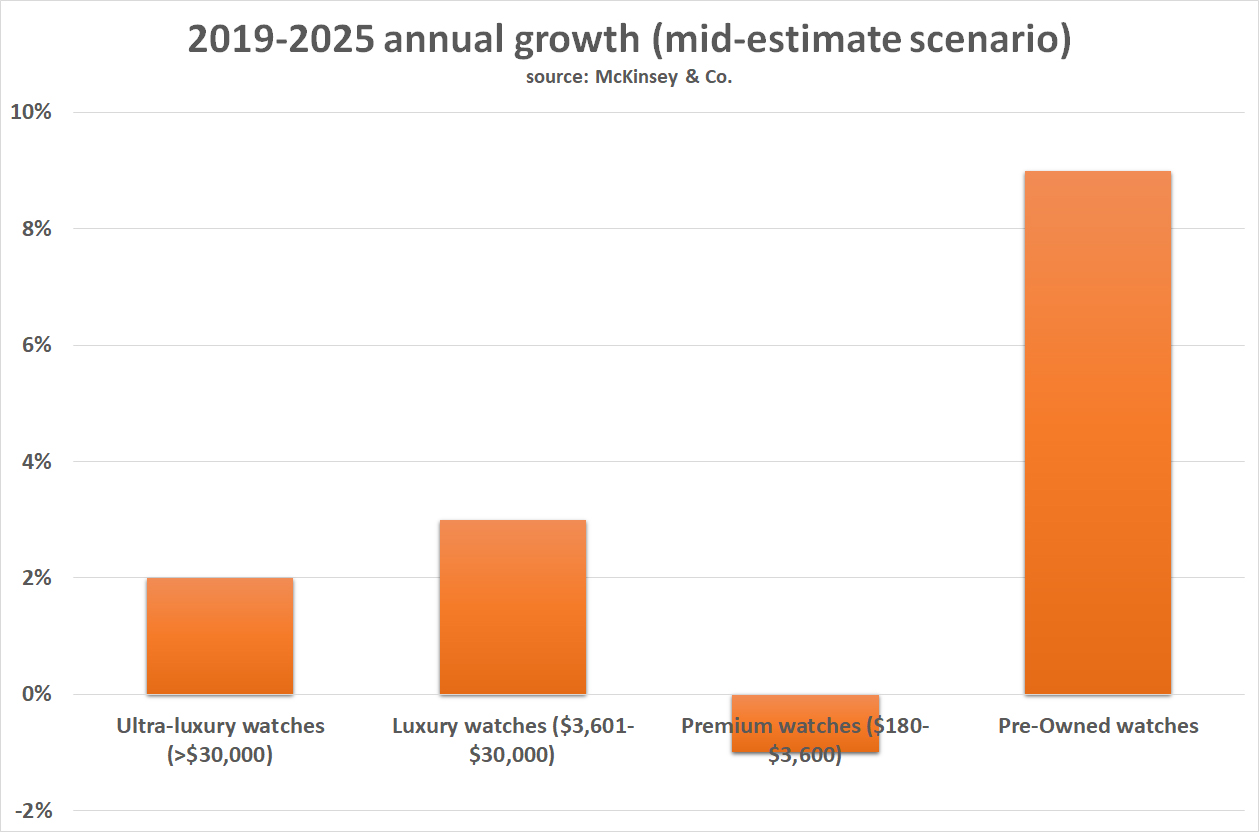 The report calculated that in 2019, the pre-owned market had been worth $19 billion. But it said that by 2025, that figure would have soared to as much as $32 billion.
Of all the shifts the report detailed, this invited the least opprobrium. It said what was visible from all sides. No, duh.
Up to that point, pre-owned revenues had been climbing faster than a squirrel up a tree. Thanks to the digitisation of watch retail, fuelled by Covid's 'free-money' culture, pre-owned had gone from industry black sheep to prize mutton.
Memories can be short, and we ought to remember that not even a decade ago, it was still highly unusual to open a dedicated pre-owned watch showroom.
In 2013, Watches of Switzerland showed just how unsure of the category it was by championing its new pre-owned business with two stores devoted to it.
The first was in Glasgow, the second in… Reading.
But times have changed. As those billions mounted in the latter half of the last decade, speculators turned up on the doorstep waving wads of fifties – and were welcomed in.
Prices went stratospheric, provoking endless talk of watches as an asset class, to rival cars, art and wine.
So, when earlier this year prices started to fall, it gave some people the jitters.
Talk of a crash followed as the April peak gave way to what from some angles looked like the beginnings of an avalanche as the horological glacier cracked, perhaps to take everything in its path with it.
Values of unicorn watches such as the Daytona and the Nautilus, came down, accelerated by the war in Ukraine and the crypto crash, proving that the most eye-popping pre-owned values had been a product of speculation rather than genuine buyer demand.
A bad look, as I've said in these pages before.
Data backs up the correction theory. The Subdial 50, a tracker created by the promising young British watch trading platform Subdial, points to falling prices over the past six months of the top 50 most in-demand – or most traded – watches, all Rolex, Patek Philippe and Audemars Piguet models.
But over the past 12 months, the 140 million data points and two million listings the Subdial 50 is based on reveal a value uptick for the same models of 18.1%. Long-term growth, in other words, just with a little less flash in the pan.
During the spring crypto crash, an estimated $2 trillion dollars vaporised overnight, perhaps never to return
There's another facet to all this, too, which is that at the same time, pre-owned volumes appear to be rising.
At least, so said Tim Stracke, Chrono24 chief executive, in our on-the-record interview earlier this summer, adding his voice to the view that prices had gone far beyond what the market could sustain and that what we were seeing was simply a healthy correction.
Take a longer-term view, he added, and prices of the Daytona and Royal Oak were still higher than in January, while the sub-€10k segment was on the up, too – a good sign.
In the same conversation, he said Chrono24 is now reporting revenues over €2 billion. So, he might know.
What, then, happens next?
During the spring crypto crash, an estimated $2 trillion dollars vaporised overnight, perhaps never to return.
Some lost life savings, others fortunes they never really had, still others the funds to splash on bling.
Sympathies vary.
What this showed was what history has proved time and again, that things in the investment world can change fast, based on one simple formula: something is only worth what someone is prepared to pay for it.
By that reckoning, if everyone were collectively to decide a second-hand watch isn't worth so much, the market could be in for a bit of a shock.
But as I said at the head, I don't see that happening, because a watch remains a good investment, if that's the ambition.
As David Duggan told my colleague Tracey Llewellyn here recently, you could pick up a Nautilus for £1,250 as recently as the 1990s, concluding with sublime economy that: "I would rather have my money in a good second-hand Patek with box and papers than have it in the bank."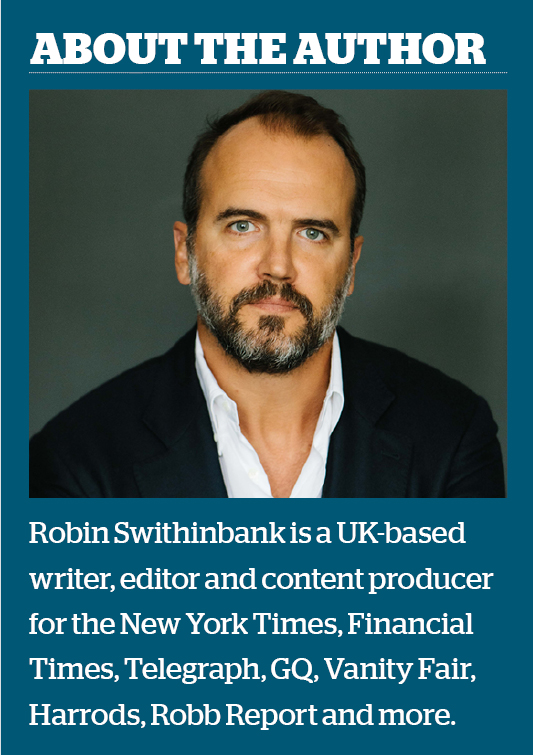 A healthy correction was needed.
False wealth and greedy speculator culture was to blame for silly-money prices of some models.
Seeing those numbers tumble as crypto crumbled should bring reassurance, rather than panic. This new normal will bring real, long-term buyers back into the market.
Because while watches are not gold, when all else fails, a good ticker will always set the heart racing.