The watch-collecting world probably doesn't need reminding that Phillips in New York will auction the Holy Grail of Rolexes, a Daytona owned and worn by Hollywood legend Paul Newman.
It re-surfaced earlier this year, after last being seen on Mr Newman's wrist in 1984.
It has since been on a world tour drumming up interest for this week's auction, which starts on October 26.
Story continues below
Advertisement
The history of the watch is what is causing watch experts to predict that a watch, bought for around $200 in 1969, could sell for $10 million.
It was during the filming of the 1969 film Winning where Newman's passion for auto racing would form, and his wife and co-star, Joanne Woodward, chose this Daytona fitted with an "exotic" dial – later to be nicknamed the "Paul Newman" dial – as a gift.
Its current owner, James Cox entrusted its sale to Phillips,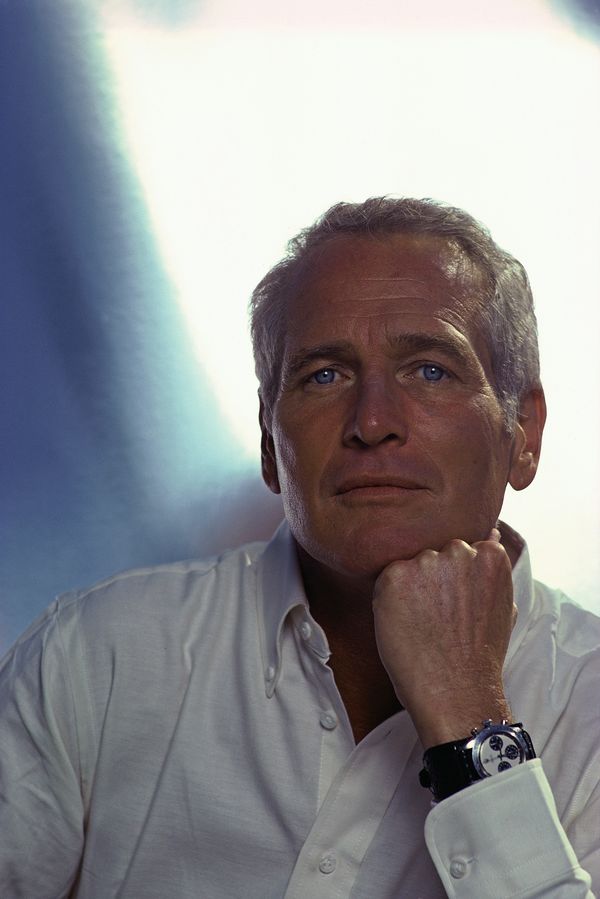 Photo credit: Douglas Kirkland / Corbis via Getty Images
Roughly around the time Winning was filmed, Joanne Woodward purchased the perfect gift for her husband – the present Rolex Cosmograph Daytona reference 6239 manufactured in 1968 and designed specifically for motor sport. A woman of exquisite taste, Joanne likely purchased this example with 'exotic' dial at Tiffany & Co. on 5th Avenue in New York City, as evidenced by the hand engraved inventory numbers found on the back of its lug. On its caseback, "DRIVE CAREFULLY ME" is the loving inscription Joanne had engraved for her husband. The dedicated inscription reflected her fears as a result of his need for speed. After all, three years prior in 1965, Newman was injured in a serious motorcycle accident where skin grafts were required on his left hand. With those unpleasant memories still fresh in her mind, she felt great discomfort every time he went onto the racetrack for a drive.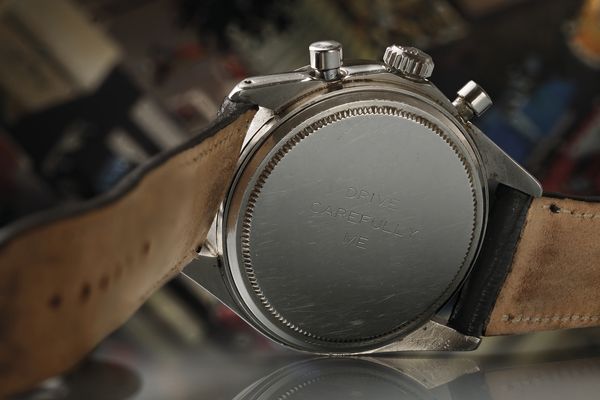 Rolex Ref. 6239, 1969. Case No: 2'005'325, engraved 'Drive Carefully Me'
The Daytona would become Newman's faithful companion, using it as a true tool watch for timing his racing activities. So proud and confident he was of its accuracy, he would place bets with friends that his Daytona was more accurate than theirs. After calling Central Time, a phone service providing exact time, Newman would collect his winnings. He loved his Rolex and loved being on time.
In 1984, it seemingly disappeared once he received a new watch – a black, non-exotic dial Cosmograph Daytona, reference 6263 bought for him again by Joanne Woodward. What happened to the watch after its disappearance in 1984 was one of the greatest horological mysteries of the 20th century – until the consignor, James Cox, revealed the watch and its fascinating story to us. This Cosmograph Daytona in fact never went "missing." It was given directly by Paul Newman to Mr. Cox, forging an incredible history and provenance linked to Mr. Newman and Mrs. Woodward's first daughter, Elinor "Nell" Newman.
Nell was a beautiful, smart, "girl next door" type. Humble, like her father, she never boasted about her famous background. She attended The College of the Atlantic in Bar Harbor, Maine. While at school, she kept her identity secret, using her stage name, Nell Potts. In the fall semester of 1983 she began dating a fellow student, James Cox. During a dinner with a group of students, Nell brought a bottle of "Newman's Own" salad dressing. Upon seeing Paul Newman's face on the bottle, James shared that he had met Paul Newman as a child at the Lime Rock motorsport racetrack. He stood behind a rope, trying to capture a picture of the drivers with their cars, and was spotted by a fully suited driver who gestured to him to come onto the track to get a better photograph. The driver, he told them, was Paul Newman.
It was after she heard the story that Nell confessed her true identity to James. Her name was not Nell Potts, but rather Nell Newman. Nell diligently hid her background under this alias to insulate herself from anyone with ill intentions seeking to become her friend for the wrong reasons. Needless to say, James was in love with her, not her famous background, and the two continued to date for nearly a decade.
Paul Newman with daughter Nell Newman. Photos courtesy of James Cox and Nell Newman.
In the summer of 1984, both Nell and James were staying at her family's house in Westport, Connecticut. She worked as an attendant in Vermont, helping rehabilitate peregrine falcons return to the wild. James remained at Westport with Paul Newman, and came up with the idea to rebuild the tree house on the main property, known as "Nook House." It was this tree house that convinced Joanne Woodward to purchase the home. For Paul and Joanne, it was the most important feature of Nook House, and it was central to the longevity of their incredible, 50-year marriage.
As described by Nell Newman in her signed letter accompanying the present lot: "Pop would frequent the river bank to check on James' progress. During one such encounter, Pop asked James if he knew the time. Apparently Pop forgot to wind his wristwatch that morning. James responded that he didn't know the time and didn't own a watch. Pop handed James his Rolex and said, 'If you can remember to wind this each day, it tells pretty good time.'" Since that day, James treasured the watch and has preserved it in its original condition.