Swatch Group's worldwide sales have surged by 12.6% at constant currency rates to CHF 4.3 billion in the first six months of 2018.
Net income soared by 66.5% to CHF 468 million as net margin rose from 7.6% to 11% this year.
The company says the results vindicate its strategy of long term investment, including keeping its people employed and maintaining production capacity through the 2016-17 downturn, in preparation for growth.
"The very sharp acceleration in the last quarter of 2017 continued in the first half of 2018," the company says in its financial statement covering the first half of 2018.
"The Swatch Group, with its strong brands and its own retail network, including e-commerce, and its efficient customer service, generated record sales in the first semester. The Swatch Group continues to maintain its consumer-friendly and defensive pricing policy and does not automatically adjust local sales prices to volatile exchange rates versus the overvalued Swiss Franc," the statement continues.
The group hired more than 800 new employees, mainly in the Swiss production companies, taking the total workforce to 36,200 employees; 1200 more than at the end of June last year.
A forward-looking statement says that the group expect the second half of the year to offer excellent opportunities for continued strong growth and further expansion of market share. "Consumer demand, particularly from millennials, for authentic innovative brand products is greatly increasing on a worldwide scale, regardless of region or price segment," the company adds.
A rare insight from Swatch Group into the global pre-owned watch market hints at rising focus on the sector. "Consumers want real values, not only materially but also emotionally. This can be seen worldwide as a clear counter-trend to total "commodity consumerism" where everything is interchangeable and quickly loses its value. Increasing interest in pre-owned and vintage products favours strong, innovative and authentic brands. This is an immense opportunity for the 18 Swatch Group brands," the company says.
In the second half of the year, Swatch Group points to key launches including Blancpain's Fifty Fathoms Bathyscaphe Day Date, Omega's Seamaster Professional 300m diver's watch, Longines' Conquest Collection VHP watches, Rado's DiaMaster collection in ceramic and rose gold and the expansion of Swatch's Skin Irony collection.
Swatch Group does not break down sales by brand, but Swiss banking group Vontobel does provide an estimate for 2017 that shows Omega, Longines and Tissot dominating sales.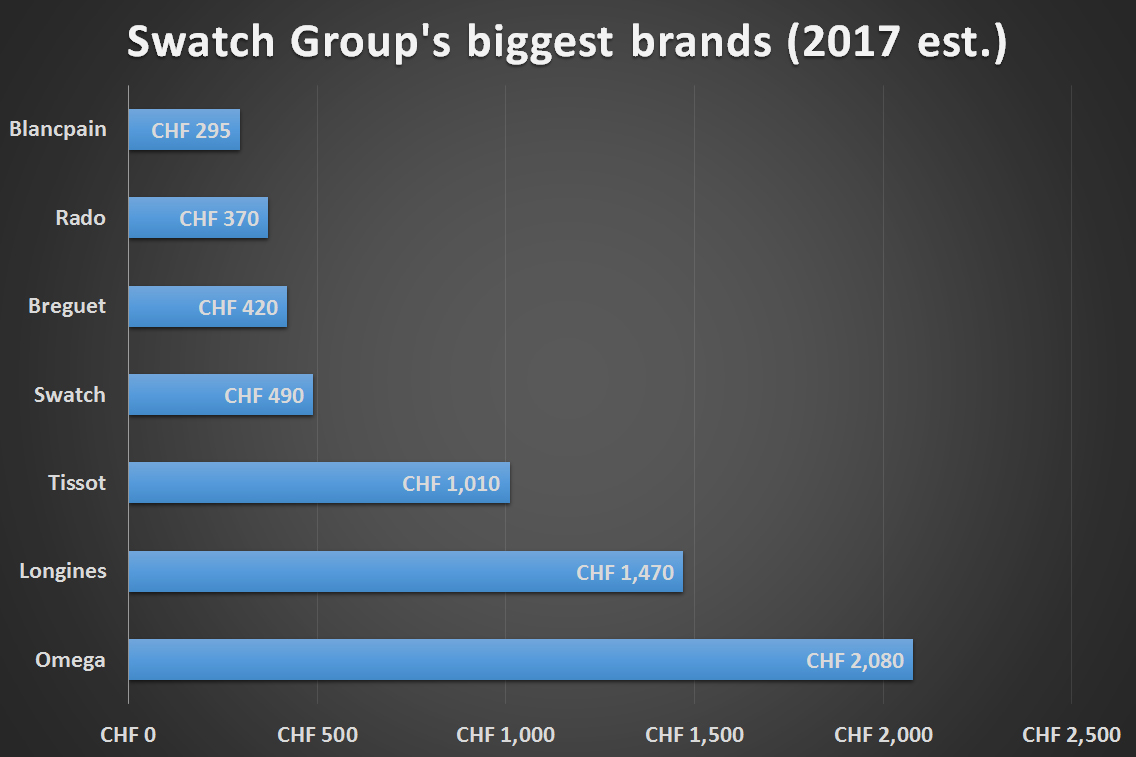 There is also no breakdown in sales by country in the latest financial statement. The most recent accounts published at Companies House in the UK put sales in 2016 at just over £80 million from wholesale and retail operations.