Given the current record-high values of many Rolex watch models in the secondary market, it's only natural to wonder if we have hit a price peak. Paul Altieri, Founder and CEO of Bob's Watches — a leading online marketplace for pre-owned Rolex watches — has some insights to share.
I often get asked if we are in a Rolex price bubble and more importantly, if that bubble is going to burst anytime soon. The short answer is no; as long as the overall global economy remains strong then demand for Rolex watches will continue to outpace supply.
And judging by the growing resale value of certain models (which I will explain in detail below), it's clear that Rolex prices have not peaked in the pre-owned market just yet. This is simply because there are plenty of consumers ready and willing to pay market price for the Rolex of their dreams, even if that means paying well above the manufacturer's suggested retail price (MSRP) for it.
The Most In-Demand Rolex Models Right Now
Among all the models available in the pre-owned Rolex market, there are four current-production models that stand out as having the highest demand right now. These are the Rolex Daytona chronograph, the Rolex GMT-Master II dual time timepiece, the Rolex Submariner dive watch, and the Rolex Sky-Dweller annual calendar.
Except for the Sky-Dweller, these collections have all been a part of the Rolex lineup for well over five decades and belong to the Professional range of Rolex watches, characterised by their origins as tool watches to serve a specific audience: the Submariner for divers, the GMT-Master for pilots, and the Daytona chronograph for race car drivers.
The Sky-Dweller, on the other hand, is Rolex's newest collection, having only been released in 2012. It's also the most complicated modern Rolex watch, featuring two time zones, a date display, a month indicator, and an annual calendar complication.
What all four of these Rolex models have in common is that they sport cases that are 40mm or larger (42mm for the Sky-Dweller).
The Most Sought-After Rolex References By The Numbers
If I had to pick just one Rolex that best represents the current overwhelming demand, it would have to be the Daytona ref. 116500LN in stainless steel with a black ceramic bezel.
Launched in 2016, this is still the watch to own and the one that "money can't buy" (at least not from Rolex boutiques).
With a retail price of £9.550, the waitlist to buy the Daytona 116500LN at Rolex stores is still multiple years long, even though the watch was introduced over three years ago.
Prices for the Rolex Daytona 116500LN have steadily increased in the secondary market since the model's debut. In 2019, the pre-owned price of the Rolex Daytona ref. 116500LN rose over 11% from last year.
We've sold over 200 pieces of them since 2016 and our most recent sale of a 116500LN clocked in at $25,000 (approx. £19,250) —that's almost 100% over the full retail Rolex price.
Another hot Rolex seller this year has been the Sky-Dweller ref. 326934, introduced in 2017.
Prior to 2017, Rolex exclusively produced the Sky-Dweller in gold (yellow, white, and Everose), which made it one of the most expensive contemporary Rolex watches to own.
However, the introduction of the Sky-Dweller 326934 in stainless steel (with a white gold bezel) offered a far more accessible price point at £11,100, and therefore opened up Rolex's most complicated timepiece to a much wider demographic.
The Sky-Dweller 326934 with a blue dial has picked up tremendous steam in the pre-owned Rolex market recently. Less than a year ago, we were selling it for around $15,000 (approx. £11,500); however, our most recent sale of the same model was priced at $23,000 (approx. £17,700).
This is an unexpected turn of events for the Rolex Sky-Dweller since the initial reaction to the model in its early years was somewhat lukewarm. Yet, that's the power of stainless steel in today's market: it can change the course of a Rolex collection almost immediately.
In total, we have sold 88 pieces of the stainless-steel Sky-Dweller over the last two years and its value has risen over 50% in the past year alone.
No surprise here, but the new GMT-Master II 126710BLRO "Pepsi" (released in 2018) and the GMT-Master II 126710BLNR "Batman" (released in 2019) also enjoy thriving demand in the pre-owned Rolex market.
Both are stainless steel models with bi-colored Cerachrom ceramic bezels and Jubilee bracelets, and both are priced £7,150 MSRP; however, they sell for an average of $18,000 (approx.13,800) in the secondary market.
What is even more impressive is that at our last auction, a GMT-Master II 126710 "Pepsi" sold for a whopping $25,000 (approx. £19,230), including buyer's premium, which is more than 2.5 times its MSRP.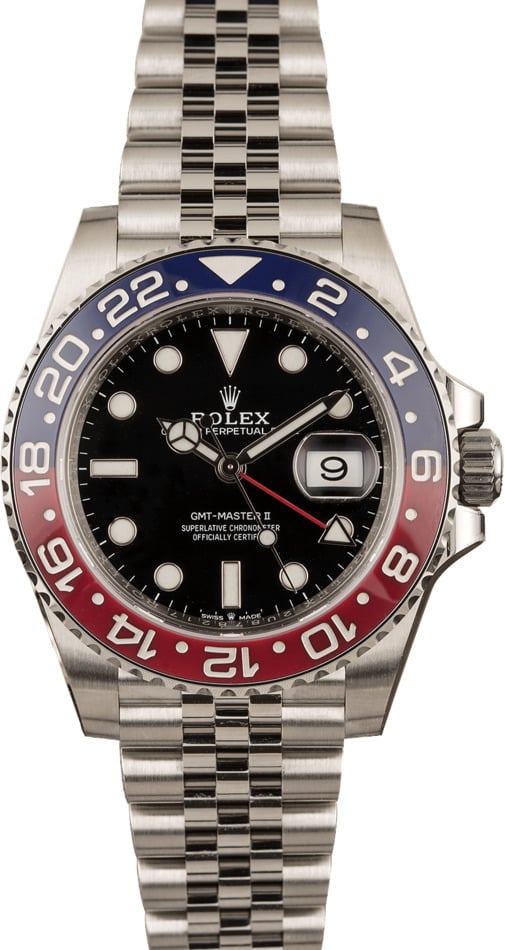 View Rolex GMT Master II 126710BLRO
Finally, the Rolex Submariner has always enjoyed strong sales; however, it is the green versions that are currently showing the highest levels of demand in the secondary market.
Although the stainless-steel Submariner 116610LV "Hulk" has been available in the market since 2010, the demand for the green Submariner shows no signs of slowing down.
The current retail price of the 116610LV is £6,950, yet due to its high demand and short supply, the model is currently trading for around $18,500 (approx. £14,230) for unused models in the secondary market. For an almost decade-old Rolex model, a secondary market value of nearly double its original retail price is seriously impressive.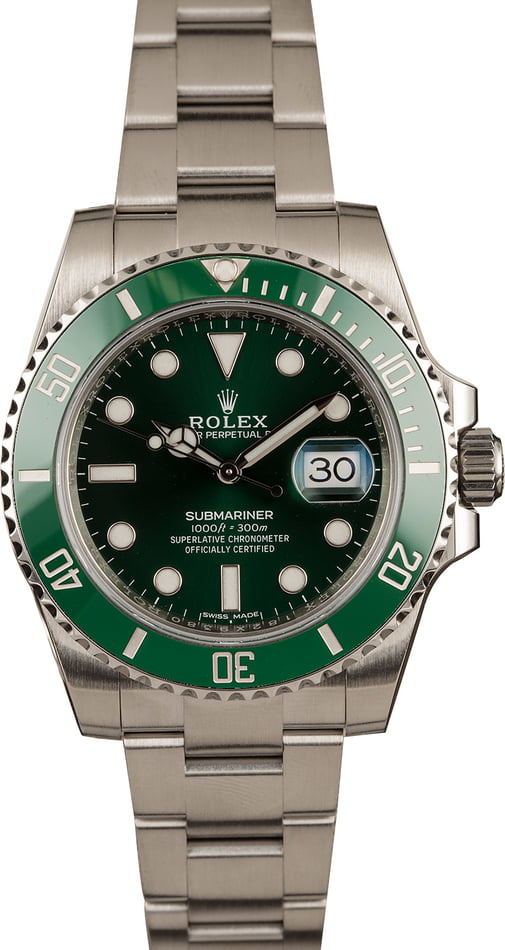 View Rolex Submariner 116610LV
Given the data, it's clear that stainless steel Rolex sports watches are exceedingly popular. They are virtually unattainable at retail locations, and pre-owned examples trade hands for well above their original purchase prices in the secondary market.
Throw in some ceramic bezels or green dials into the mix (along with the virtually universal recognition of the Rolex brand), and you've got killer combinations that simply can't be beat—and that will likely remain among the most desirable and fiercely collected watches in the entire world.
About the author: Paul Altieri is the Founder and CEO of Bob's Watches, the leading online destination for used Rolex watches. Determined to make Bob's Watches a transparent and fair marketplace for second-hand luxury watches, Paul created the Pre-Owned Rolex Exchange Concept to allow consumers to see both buy and sell prices. Paul is also a passionate watch collector with many vintage, rare, and collectible timepieces in his private collection.