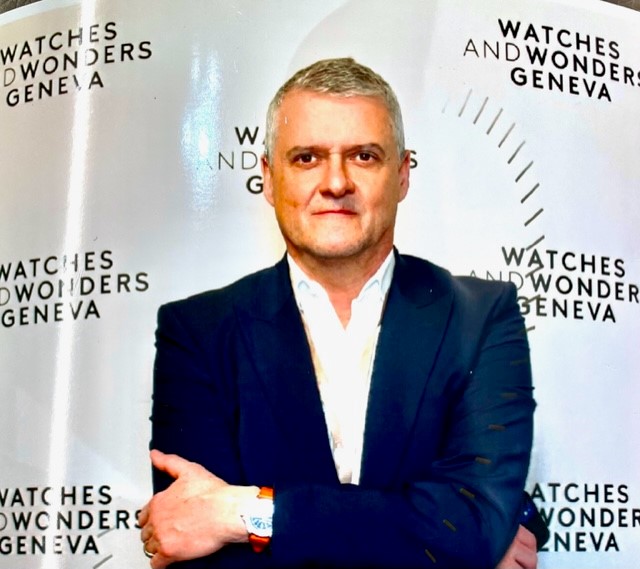 Consultant Richard Hammond gazes into his crystal ball for a glimpse at the far reaching impact of artificial intelligence for brands, retailers and watch collectors.
After the tsunami of AI news this last month, (remember the Metaverse???) it might be worth thinking about the impacts of AI on the entire watch industry.
Even if you've been off grid, nobody has been able to escape the word AI is impacting your orbit and the cantons across Switzerland.
You will remember the first website, the first Google search; now AI will shape watch selling and marketing profoundly in the next decade for all of us and transform our world as we use machine learning to remove or double-check human work.
Having shared some thoughts and insights on brand marketing last month, we are now turning our minds to AI.
How we will all deal with the ability to read thousands of documents, scrape the internet for relevant trend data and report it in a useable fashion in the blink of an eye?
Chat GPT or 10 or so Plug-ins, making the next tech revolution a game changer for the watch business.
The guarantee card or database will be history, transformed into well-informed buyer insights and data that can be used to move selling into a more personal knowledge led approach. The best salesperson after all, is the one who listens hardest.
Bespoking, customising, the watch business is about to become more personal. AI will know you and your requirements when looking to buy the next watch.
How much of this will be possible, time will tell, but here are some thoughts to get the AI debate going…
Boutique of the future
You walk into your favourite watch store and via the analysis of your web behaviour and credit card data and historical watch purchasing, the salesperson serves you a refreshing Aperol spritz, and the room is scented with Italian lemons, rather than fresh champagne and lavender.
They know you prefer Sardinia in the early summer for your holidays, sports watches over formal brands and 39mm over 42mm.
More importantly they know you prefer to shop late night on a Thursday rather than Saturday morning.
The watches presented to you include the latest dive models inspired by your favourite movie, The Big Blue.
Perhaps a touch of Italian chic from Squale or something more classic, like the Omega Dive master or something bolder like the Prospex from Seiko.
All designed to engage your latent interest in free diving off the Italian islands, watches that mirror your web behaviour and lifestyle.
The sales journey could be transformed from a guarantee card, rolodex, or email database, into a 3D profile of your buyer, finally a world where you really know your customer.
AI could potentially prepare each watch dealer with profiles of the buyers and their motivations, lifestyle habits, passions, spending patterns, collection, and aspirations.
Tap into their interests with the relevant launches, show cases, customer events and experiences.
AI for Marketing
Beyond the intelligent boutiques, how can AI help the teams bunkered in the mountains above Geneva to deliver what the market wants?
Lead generation will also be impacted by AI, sharing emails, creating personalised video content rather than generic, enabling better ROI and conversion rates.
Like a Google search, AI will be as good as the questions you ask, or data you need to cross reference.
AI for Watch Design
Help the product brainstorm that's not going well!
The newest intern, high in the Jura suggests feeding the product concept into the AI tool.
AI can help you predict fashion trends and insights into what will be happening on the fashion runways around the world, to feed the design team with the latest bronze trend or metal finishes coming out of Milan on this season handbags.
Trends from the music world, art, fashion, and travel can all be used to drive the new collection.
The watch development team can use AI to quickly summarise the global trends on colours, fabrics, materials. shapes and environmental impacts.
Overlay this with the popularity of a brand ambassador or specific area of brand reference, for example Formula 1 versus Formula E?
What's the right talent, event and or sponsorship for your brand, informed by AI but still a balance of emotion and data?
AI design and collaboration could soon be the norm and help stop expensive design projects failing, by pre-checking designs quickly and easily around the world.
AI for the Watch Collector
AI will enable you to have personalised updates on the watches you want to buy.
What's on my watch list? What's upcoming in the global auction houses? When iss the next Redbar event? Is WatchPro Salon rightfor me?
AI will feed your inbox with alerts and ensure you don't miss that 'Very Rare' Moser on sale in Hong Kong.
AI will shift the balance to the buyer who wants a constant feed of data, as opposed to checking social media and the myriad of sites out there.
Filtered, personalised, and updated instantly 24/7 without any stress.
Back stories delivered, history defined, every moving part described … the limitlessness of AI.
Find me a Rolex Yacht Master. One pops up at Watches of Switzerland Heathrow (this might be in 2037); no more trawling websites or worn out Berluti's.
AI watch collector assistant called Time.
Imagine again that AI becomes your watch collection curator.
Tells you the brand's backstory so you can show off at the next WatchPro salon.
Tells you the values historically and potential returns in the future.
Helps you log, store and service the watches in your collection, plus the AI fashion +watch match tool.
Event pairing, of course, advising on which watch is best for a day on the racetrack or attending a free diving event.
Tells you about new launches and trends.
Who said AI was dull!!
AI Security
AI will take the legwork out of the ownership of the watch once the retailer hands it over.
Who holds the relationship with the owner?
The Rolex forgeries sent a shudder down WP readers' backs. AI will pre-check ownership and warranty, who sold it and who bought it.
Biometric data could be harnessed and connected to the watch, AI cross checks and verifies it.
In closing ….this journey is just starting and as every VC player invests in the next big AI idea, then this will provide even more exciting possibilities for an industry rich in history, protective of its artisanal roots, but fully aware that the next generation of buyers will expect to know everything about their purchase….don't forget they were born with a DEVICE IN THEIR HANDS.
About the author
Richard Hammond is a watch collector and co-founder of HMS16 is an independent creative communications agency.