Casio's G-Shock is famed for its limited edition collaboration pieces, but today's news that it has made a watch to mark what would have been Bruce Lee's 80th birthday may send collectors into greater levels of hysteria than most.
The MRG-G2000BL MR-G, a limited edition of just 300 units, is a certain sell out, despite a price tag of £3,600 when it hits G-Shocks own boutiques at the end of March.
Get your name down now, because the flippers are going to jump on this with the speed of Bruce Lee himself!
It comes in the black and yellow of the jumpsuit that the actor and martial arts legend wore in his last movie, Game of Death, which was still in production when he died aged 32 in 1973.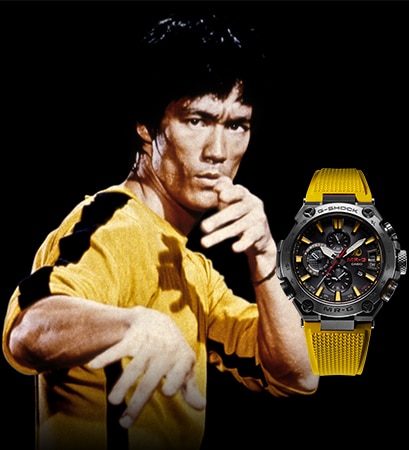 The jumpsuit sold at auction in 2013 for $100,000, demonstrating the enduring collectability of any memorabilia connected to the star.
The MR-G also uses yellow and red, which appear in the emblem of Jeet Kune Do, the martial arts philosophy founded by Lee, for the indices, MR-G logo and second hand.
G-Shock has included many visual references to Jeet Kune Do including its bezel engraved with "Using no way as a way, having no limitation as limitation," a phrase that expresses the limitless potential of the philosophy. The same phrase in Chinese is engraved on the case back.
The 3 o'clock position on the dial is also decorated with Bruce Lee's signature using the Chinese character "龍," or dragon, Bruce's nickname.