In the iconic 1987 thriller Wall Street, Master of the Universe Gordon Gekko charges his acolytes with unearthing the smallest nugget of corporate information that might signal future stock market price moves.
With the recent — rather unwelcome — advent of waiting list watches from the likes of Rolex, Audemars Piguet and Patek Philippe being traded like stocks, a new legion of speculators is similarly reading the runes for clues to the market's direction.
One indicator is supply at authorised dealers, which is difficult to calculate.
We can all see 'Exhibition Only' signs in jewellers' windows, which does not mean the watches are completely unavailable, merely that they are being funneled directly from authorised dealers' safes into the hands of their most loyal, biggest-spending, customers.
It is certainly a sign that demand exceeds supply, hence the emergence of huge waiting lists.
If we knew that waiting lists were getting shorter, with watches being delivered within months not years of deposits being paid, this would certainly show supply improving, which should put downward pressure on secondary market demand and prices because there would be little incentive  to pay a massive premium on the secondary when a waiting list may only be a few months.
There is growing anecdotal evidence that waiting lists are shortening, a trend I will be keeping an eye on in the coming months.
Another indicator is the supply of watches on the secondary market itself, and here we have far greater transparency.
Thanks to WATCHPRO's friends at Subial, a pre-owned watch specialist based in London, I have data tracking the rise and fall of inventory on the secondary market.
Subdial scrapes information from major secondary market sites, Chrono24, Watchfinder, Mrwatchmaster, etc, to track not only price, but also inventory for its extremely useful Subdial 50 tracker of the most traded watches by volume.
I have shared graphs in previous columns showing how prices rocketed for some of the hottest references between the summer of last year to spring of this before retreating sharply over the past few months.
Now prices appear to be stabilising, and even rising slightly in August.
Why? Because supply on the secondary market has plunged after spiking in March for key watches, particularly the discontinued references in the Rolex Oyster Perpetual, Audemars Piguet Royal Oak and Patek Philippe Nautilus families.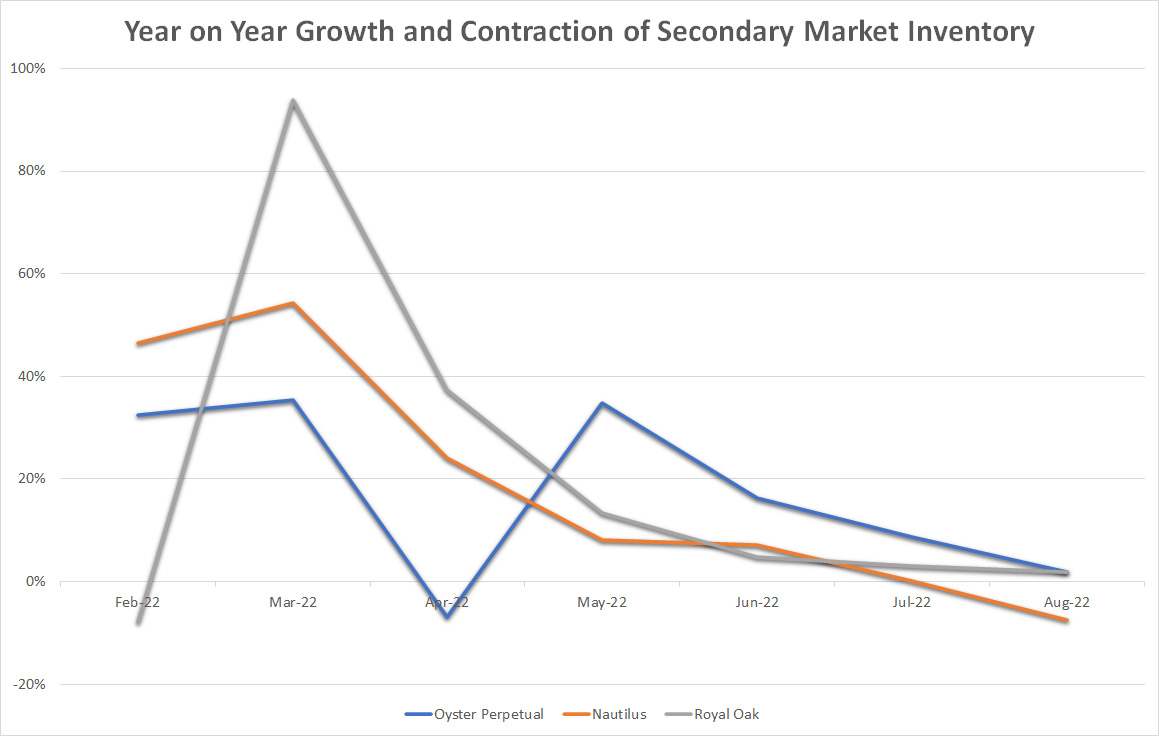 This graph shows the dramatic rise in supply as speculators sensed, or engineered, the top of the market in March and cashed out at the moment of maximum profit.
An alternative theory would be that, having missed the peak, people might have simply withdrawn their watches for sale in the hope that another opportunity presents itself.
Royal Oak supply doubled, year on year, while inventory for the Nautilus and Oyster Perpetual was up by 54% and 34%, respectively.
Watches that are still being made, even those with long waiting lists at authorised dealers, also saw inventories rise on the secondary market, but by much lower percentages, and this was reflected in more modest rises and falls in prices.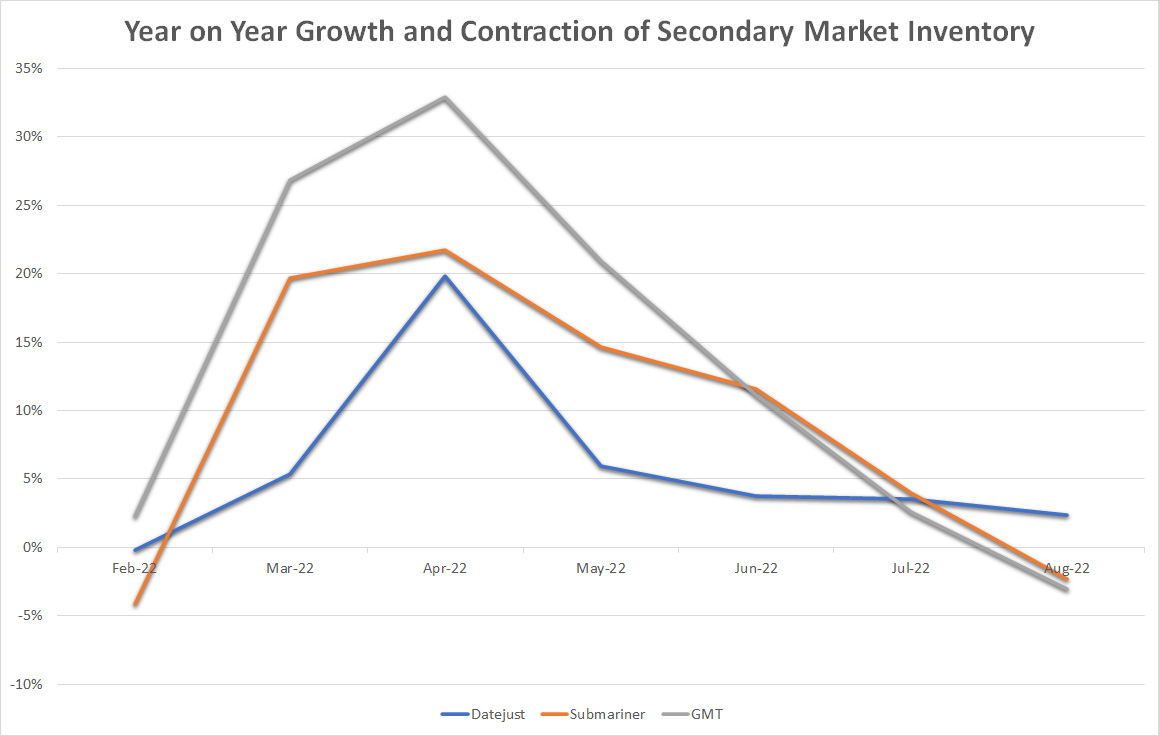 Whether there is, or will be, a perfect correlation between supply and prices on the secondary market is for the speculators to decide.
One thing is for sure, it is the sort of data that Gordon Gekko would be pouring over with his minions.